Characteristics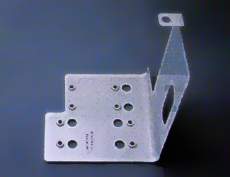 A laminate bus bar is a board that restrains an abnormal voltage in a power circuit using power semiconductor elements such as IGBT and IPM at the time of high-speed switching, to improve characteristics when performing high-speed operations. We have achieved the following by laminating an insulation film sheet with a metal conductor.
High-speed switching with reduction of inductance between conductors
Rationalization of wiring and reduction of assembly time with reduction of the number of parts
Reduction of the assembly space
High reliability of electrical connection parts
High partial discharge inception voltage level
In addition, a lightweight laminate bus bar with an aluminum conductor has been put to practical use to replace the general copper conductor.
Product name
Laminate bus bar (large current circuit board)
Structure
Example of dual-layer board The electrical connector can be removed from each layer in the terminal collar.

Electrical characteristics in standard design
Copper conductor bus bar
Aluminum conductor bus bar
Rated voltage
DC 2800V or less
DC900V or less
Current
1750A or less
400A or less
Withstand voltage
AC8400V or less 60Hz in 1min
AC4100V or less
Insulation resistance
100MΩ or more (DC1000V mega)
←
Partial discharge inception voltage
AC800V(30pC) or more
(With dual-layer board standard insulation structure)
AC780V(10pC) or more
(With dual-layer board standard insulation structure)
Conductor specifications
Conductor
JIS H3100 tough pitch copper
Standard thickness
t=1.0, 1.5, 2.0, 3.0 mm
JIS H4000 pure aluminum
Standard thickness 
t=1.0、3.0 mm
Connecting
terminal
Silver alloy brazing terminal collar, etc.
Crimping terminal collar, etc.
Surface
treatment
Sn plating standard,
Ni plating is also available
Ni plating standard
Insulator film
PET film composite base material, Aramid paper
(The optimal insulation structure is obtained according to the required electrical characteristics)
←
Usage environment
Operating temperature range: -40 - 85℃
←
The above are basic specifications. Please contact us for variations according to your product specifications, structure, etc.